Death By Chocolate
Coffee & Dessert Bar

Once again, your humble narrator had the amusing privilege of going on a little excursion with our friend and mentor, Cakey Pants Jack, in search of yummy treats and drink.

This week's journey found us in the west end of our fine city, in delightful High Park. Normally, riff-raff like we are subject to public belittling in such fancy looking parts of town, but we made out OK with our laid-back (read: lazy) demeanour and generally charming airs.

Now, you couldn't swing a poodle by the tail around your head a few times, let go & let him fly without it hitting a coffee shop in this part of town. We drove wide-eyed in the Pantsmobile along Bloor street, both exited and distressed at the overwhelming choice for our caffeine sanctuary of the day.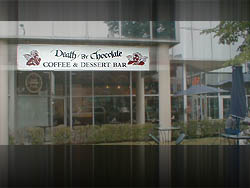 Suddenly, CPJ starts thumping and smacking at my arm, like the back leg of rabbit in heat, and making some noises which I can only approximate here as: "MMMM... GHAAAA...". When I saw what all his hubbubbing was about, I knew we needed not look any further. It was a sign... No really, it was a sign. On a coffee shop. A coffee shop called " Death By Chocolate".

The name was familiar to me. CPJ -- being somewhat of an authority on television -- told me about a Tee-Vee Show of the same name on the Cooking Channel (good lord, what's next? A Space Channel that shows fourth- rate programs that tanked the first time they were out 20 years ago?).

Anyway, this Death By Chocolate cooking show is about a guy and his love for all things chocolate. Gotta admit, sounds OK with me. This place and that show belong to this Chocolate-Guy. Hmm... CoffeClub TV...

Nestled in the corner of some kind of office edifice, its somewhat bland exterior is forgotten once you amble into a warm, woody, colourful yet subdued environment, with lots of comfy seating and windows, looking out across their grassy patio to Bloor Street.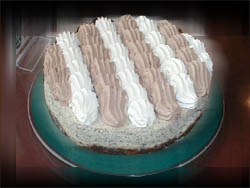 A classy display counter shows off their fabulous cakey treats (more on these later), and just inside the entrance is a display case with some stuff you can buy: mugs, T-shirts, etc. (Who buys this stuff? I mean, they're nice and all - especially the stainless steel travel cups - but I bet the only time anyone's ever bought any of this stuff is when they're all hopped up on caffeine & sugar.) Bordering on pretentious with the souvenirs, but tastefully trendy.

Washrooms were cleverly tucked away 'round back, and nicely done up without any fancy accoutrements that just distract you from the task "at hand" and delay your return to the table; we all know the importance of uncomplicated bladder evacuation when drinking coffee. (I liked 'em so much, I even did them a favour and refilled their paper towel dispenser.) And most importantly, a bitter boy such as your humble narrator needs all the luvin' he can get; friendly, helpful staff go a long way in my book, and the girl running the place that day was real swell (didn't catch her name, sorry...). She even got us a brand new cake from the back for our photo shoot! Anyway, onto the goodies...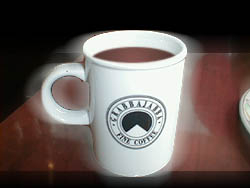 Once again, I find not a huge coffee selection: a flavoured blend (Irish Cream, I think it was) and a Breakfast Blend. I had the latter, and was treated to a pretty decent cup of Joe. Nothing to write home about, but certainly acceptable.

They would do well to have at least two blends in addition to a flavoured one. I'd recommend a benign Breakfast or Java blend and a gonzo Continental. But hell, the place ain't called Death by Coffee (hmmm... that's what a pot of my home-brew would be called); the main attraction here is the desserts.

Still too entrenched in my Love Of Pies (although I'm coming around), CPJ had a slab of cake from the counter, and I just stuck to my coffee, but managed to wheedle a forkful or two from the boy.

We were given MENUS to look through, and I was amazed at what I saw: an out-and-out cornucopia of chocolaty yum-yums, each one a work of art, with nifty names like Twin Peaks (which looked almost as sweet as Sherilyn Fenn in an angora sweater). Some are a bit pricey, so bring lots of jack, 'cos they're surely worth it.
I actually have nothing to bitch about, aside from having nothing to bitch about. Cheers to the staff, the seats and the sweet sweets selection. I am definitely coming back and I ain't leaving till I can't do up my pants. Hell, maybe I'll even leave 'em at home.